Start Knitting for Christmas now…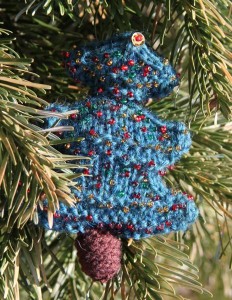 Der Sommer ist vorbei, Weihnachten steht quasi vor der Tür…
Summer is over, Christmas is nearly there…
Und ich hatte da noch dunkelgrüne sowie braune Wollreste, Füllwatte sowie allerhand Perlen und Pailletten.
And I had some dark green and brown wool, stuffing, and some beads and sequins.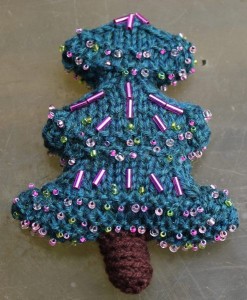 Ein prima Resteprojekt, man braucht weniger als 20m von der grünen Wolle und zwei Stricknadeln. Die sollten etwas kleiner sein, als man das normalerweise machen würde, dann das Gestrick soll recht dicht sein.
It is nice to use up some remnants, you need less than 20 m of the green wool and two knitting needles. Size a little smaller than what you would normally choose, because you want a dense gauge.
Der Stamm wird dann mit knapp zwei Metern brauner Wolle gehäkelt.
The trunk is crocheted, with less than 2m of brown wool.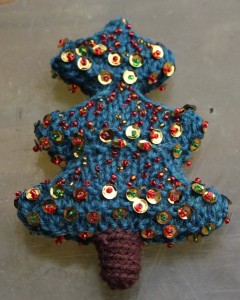 Perlen und Pailletten sind aus meinem Chaoshaufen, aufgenäht mit AlterfilS 120, den ich zufällig in genau der passenden Farbe da hatte. 🙂
Beads and sequins were what I was having in my drawer. I used my my trusted AlterfilS 120 for sewing, I had some in exactely the matching color. 🙂
Falls das jemand nachmachen mag, findet er die Anleitung hier.
If you want to try yourself here are the instructions.