Fabric Shopping in Paris: Tissus Reine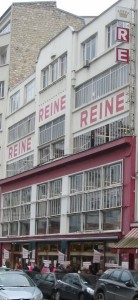 "Reine de Tissus", die Königin der Stoffe nennt sich dieser große Stoffladen auch gerne. Und so ganz falsch liegt man da nicht.
Zwar gibt es eine Sonderangebotsarea auf einigen Tischen vor der Tür, aber innen findet sich eher die mittlere bis gehobene Preisklasse. Von Baumwolle über Jeans bis Seide findet sich im Erdgeschoß alles für Modeträume. Natürlich auch ein Regal Patchworkstoffe und die angesagten Libertys dürfen selbstverständlich auch nicht fehlen. Und edle Stoffe für Brautkleider in jedem erdenklichen Weißton liegen hinter langen Tresen, nicht zum Anfassen, die legen die Verkäuferinnen vor.
Sometimes this big store calls itself also "Reine de Tissus", Queen of fabrics, and that name ist not completely wrong.
Of course there are some bargains on the tables in front of the doors, but inside most fabrics are middle to higher class and priced. Cotton, jeans or silk, whatever your fashion fancy calls for, the basement shows it. A choice of patchwork fabric and the highly trendy Liberty fabrics are also available. Not to fumble for yourself are the bride fabrics in all shades of white, well stored behind a counter. (But salespeople are there to help you.)
If you cannot imagine how a fabric will look as a dress the about half scale dress forms help you to visualize.

Und wer sich nicht recht vorstellen kann, wie ein Stoff als Kleidungsstück wirkt… die Puppen auf den Tischen mit ihren Kleidern im kleineren Format helfen weiter.
Auch im ersten Stock finden sich vor allem Bekleidungsstoffe, allerdings eher Wolle für Jacken und Anzüge, dazu natürlich Futterstoff (Bemberg) und Einlagen.
Kurzwaren die man sonst noch brauchen kann, von Bändern und Borten bis Nähgarn und Knöpfen finden sich selbstverständlich auch. Und anderes kreativmaterial, von Kurvenlinielen bis Stickgarn. Sogar ein paar Knäuel Wolle und Stricknadeln finden sich.
Interessant ist die große Schnittabteilung. Burda, Vogue, Butterick, McCall und Simplicity sind alle auf Lager. In der Regel auch in allen Größen. Doch auch weniger weltweit vertretene Firmen wie die Kinderschnitte von "L'Enfant Roi" und die Kinder-, Damen- und Umstandsschnitte von "Frégoli", beide im Stil irgendwo zwischen "brav-bieder" und "reizend-vintage", bekommt man hier.
Wem das auch nicht reicht…. es kommen noch zwei Stockwerke, mit Möbelstoffen und mit Vorhängen.
Woolen fabrics for coats or costumes are on the first floor, of course you get lining (from Bemberg) and interfacing, too.
Together with all other notions, ribbons, braids, buttons, sewing thread… but also embroidery floss or even some skeins of wool. (And knitting needles.)
Very interesting is the pattern department, you find Burda and the Big Four (usually all patterns and all sizes in stock, unusual for Europe) but also the french companies "L'Enfant Roi" and "Frégoli", both feature mostly baby and kids patterns in a style somewhere between boring old fashioned and charmingly vintage.
And if that's not enough… two more floors carry everything for home dec and window treatment.
Adresse: 3-5, place St Pierre, 75018 Paris (Métro Anvers oder Abbesses)
Auch hier gibt es natürlich eine Webseite.
If you don't come to Paris, you can check out their webside.