Quick hat (Tychus) or christmas presents revealed part 2
Ein weiteres Geschenk kann ich jetzt endlich zeigen. Ich hatte ja die Socken für meine Bruder schon fertig gehäkelt, da war ich mal wieder Zuhause und er hielt mir seine mottenangenagte Mütze unter die Nase. Das kann eine gute Schwester natürlich nicht zulassen, daß der "Kleine" im Winter am Kopf friert.
Another gift I can show now Christmas is over. After I had finished the crocheted socks for my brother I was home for a weekend and there my brother showed mit his motheaten hat. A good sister can not let her brother be cold at his head in the winter.
Also habe ich das Internet nach einer passenden Anleitung für dicke Wolle durchsucht, denn das mußte dann doch etwas schneller gehen. Bei Knitty wurde ich wie schon öfter fündig, Tychus hatte mir schon immer gefallen, weil mit unheimlich einfachen Mitteln ein richtiger Hingucker erzielt wird. Außerdem ist die Mütze so dehnbar, daß sie fast auf jeden Kopf passt und den Rand kann man mehr oder weniger hochkrempeln, wie man es eben mag.
So I searched the internet for a pattern that could be done quickly with bulky wool. Again Knitty provided me what I wanted, I had always liked Tychus because the pattern is super easy to do but creates a great effect. Also the hat stretches a lot and will fit any head. And you can roll up the brim as much as you want.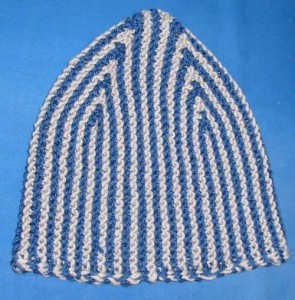 Etwas verwirrend ist die Materialangabe, ich habe letztlich aber dickeres Garn gekauft und mit den geforderten 5,5er Nadeln gestrickt, auch wenn die Garnbanderole 6-7 empfiehlt. Gedifra "Extra Soft Merino Grande" in grau und Schachenmayr nomotta "Joana" in blau habe ich in der Maschenkunst gefunden. Gestrickt hat es ich schnell und quasi idiotensicher in zwei Abenden auf dem Sofa. Nur der Verbrauch ist etwas blöd, genau ein Knäuel grau und ein Knäuel und ungefähr drei Meter in blau… Was mache ich jetzt mit ungefähr 57m in einem dicken blauen Garn?
What was not too clear in the instructions is which yarn to choose. In the end I took a bulky one that stated to use needles 6mm-7mm and used 5.5mm needles as the pattern wants. Gedifra "Extra Soft Merino Grande" in grey and Schachenmayr nomotta "Joana" in blue I picked at Maschenkunst. The hat did knit up very quickly in two evenings in front of the TV, not chance to make any mistake, it's super easy. Only the amount of yarn used is not perfekt. I needed one ball of the grey one (one meter left) and one ball plus about three meters of the blue one… So anly ideas what to do with about 57m of bulky blue yarn?