Long Helene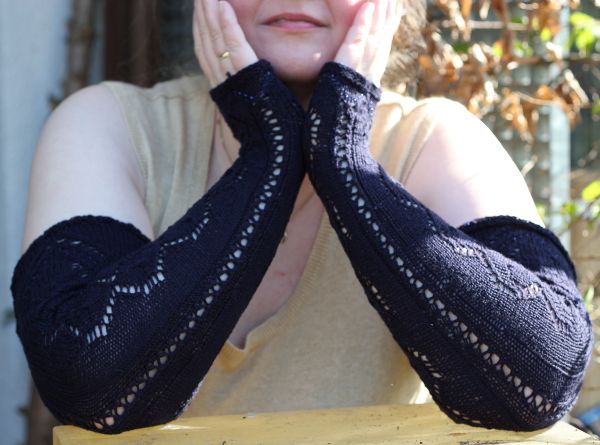 Für diese Armstulpen gibt es einen doppelten Anlass. Zum einen hatte ich das Buch "Zauberhafte Lace-Tücher" von Christine Nöller zur Rezension bekommen. Zum anderen hatte ich mir überlegt, daß festliche Anlässe im Zweifelsfall eher im Winter stattfinden und es daher praktisch wäre, wenn ich mein buntes Seidenkleid dann irgendwie tauglich für kühlere Temperaturen machen könnte. Und da kamen mir die Stulpen "Helene" gerade recht. Die ich dann einfach auf Oberarmlänge verlängert und erweitert habe.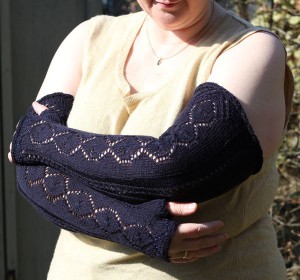 I had two good reasons to make those long mitts. Once I had gotten the book "Zauberhafte Lace-Tücher" by Christine Nöller to write a review. And then it occured to me, that festive events often happen in winter, so it would be very useful to be able to wear my neon print silk dress at colder temperatures. So the mitts "Helene" seemed to fit perfectly. The pattern makes short mitts, but I adapted them to be long.

Mit der Anleitung bin ich gut klar gekommen, eine Maschenprobe mußte ich aufgrund der Veränderungen und des anderen Garns ohnehin machen. Und mir die Anleitung dann passend rechnen. Da ich ein sehr dunkles Dunkelblau wollte, wurde es dann das wunderbare Merinogarn "Centolavaggi" von Filatura di Crosa, das es in sehr vielen Farben in der Maschenkunst gibt. Doppelt verstrickt gab das eine passende Maschenprobe. Und sehr weiche Armstulpen.
The pattern was fine for me, since I had to knit a sample anyhow to calculate the new size and length. I wanted a deep navy so I choose the lovely merino yarn "Centolavaggi" by Filature di Crosa, because Maschenkunst offers it in many shades. I held two strands together and knitted them. That gave me the right gauge and very soft mitts.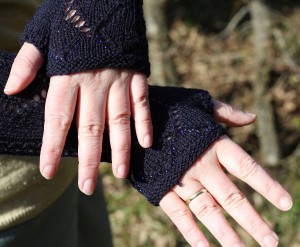 Neuland für mich war ja das Stricken mit Perlen, ein schöner Effekt mit den Roccailles.
Knitting with beads was new to me. A very pretty effect with the seed beads.
Ob sie die Arme winterwarm halten werde ich allerdings hoffentlich nicht so bald testen können…
If they keep my arms warm enough I will not be able to tell so soon. At least I hope so…
Die Bilder hier verdanke ich wieder meiner jungen Freundin Nina W. Pfeiffer. 🙂
Credits for the pics go again to my young friend Nina W. Pfeiffer. 🙂