Sweet fruit under the leaves
Schon im Frühjahr hatte ich auf Ravelry an einer Wunderknäuel-Aktion teilgenommen. Und nicht nur meine Wollamöbe abgeschickt, sondern auch selber ein Knäuel Drachenwolle mit Bambus und Seide bekommen. Das habe ich mir mit dem Muster Fall of Leaves zu einem Tuch freigestrickt.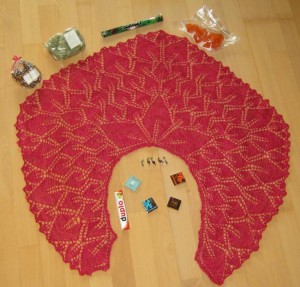 In spring I had taken part in a surprise ball swap on ravelry. I did send my woolamoeba and received a ball of "Drachenwolle" sock yarn with bamboo and silk. And I've knitted out all yummie gifts with the Fall of Leaves pattern. Now I have a very nice shawl.
Das Tuch ist definitv wunderschön, auch wenn es beim Stricken sehr viel Aufmerksamkeit erfordert. Und man muß Chart UND das geschriebene Muster beachten, was ich allerdings erst nach dem halben Muster gemerkt habe… +hüstel+ Aber ich habe es gemeistert. Gestrickt war es in weniger als drei Wochen (ich wollte ja an die leckeren Sachen innendrin kommen), aber dann war die Sache mit dem Spannen. Mein Plan war, das Tuch nur zu dämpfen. Aber bei dem Muster… leider keine Chance. Das Spannen hat sich aber gelohnt, oder?
The shawls is beautiful, but you have to pay a lot of attention while knitting. And you have to use the written pattern AND the chart. Which I only found out when the written pattern alone didn't fit somehow. But I finished it. Knitting took less than three weeks, I wanted to get all those goodies… but then there was the thing with blocking. My original idea was to steam it with the iron, but no way, the pattern needed blocking. But it was worth it, wasn't it?