Karamell (Slipper socks)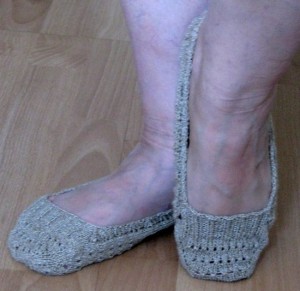 Und noch mal Füßlinge, diesmal in einer luftigen Version mit kleinen Löchern, aber auch ganz einfach zu stricken.
More slipper socks/ liners. This time with cute and airy eylets, but also very easy to knit.
Als Garn waren diesmal etwa 35g "Meilenweit Cotton 50 Uni" von Lana Grossa am Start, die ich im Frühjahr bei Wolle Rödel in Bayreuth gefunden hatte.
Der Farbton kommt auf den Bildern nicht gut rüber, aber er hat den Namen inspiriert.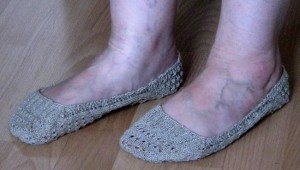 Yarn is this time from Lana Grossa, "Meilenweit Cotton 50 Solid" and I had found it as a 50g skein at Wolle Rödel in Bayreuth.
The pics don't do the color justice, but it's the color of the yarn that inspired the name of the pattern.
Wer sie nachstricken mag findet hier findet hier die Anleitung für "Karamell". Ich hoffe, es sind nicht zu viele Fehler drin…
(Und wie immer ist die Anleitung für den privaten Gebrauch gedacht und dafür kostenlos. Nicht gedacht ist sie, kopiert zu werden. Bitte gebt ggf. einfach den Link zu diesem Blogeintrag weiter. Danke!)
And if you want your own pair, here is the pattern for "Karamell" in English.I hope there are not too many mistakes left…
(The pattern is free for private and non commercial use. Please don't copy it, but pass on the link to this blog post. Thank you!)