One skein beanie… somehow…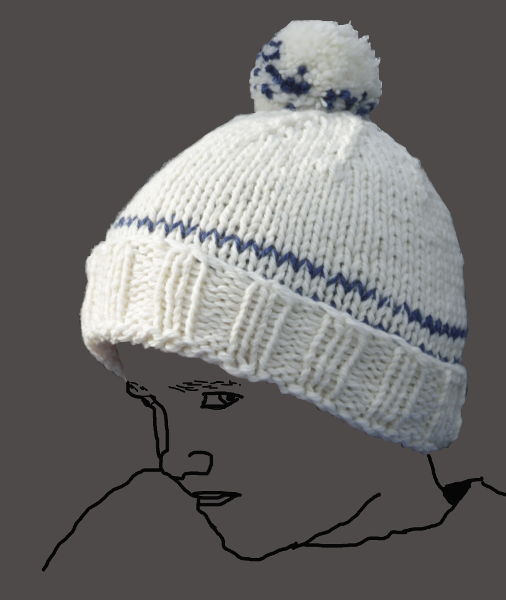 Eigentlich wollte ich nur das Knäuel "Lana" von Tahki Yarns aufbrauchen, das ich damals mit der "Grab Bag" von Webs bekommen habe. Als Anleitung habe ich mir Chunky Beanie von NatHipKnits ausgesucht. Aber so "chunky" war mein Garn dann doch nicht, was ich angeschlagen habe war winzig. Außerdem war es etwas arg locker. Nach mehreren Fehlversuchen habe ich nicht nur deutlich mehr Maschen angeschlagen, sondern auch noch einen Faden "socks' wool" von Schewe dazu genommen.
The plan was to use the skein "Lana" by Tahki Yarns I still had from my Webs grab bag. The pattern I choose was Chunky Beanie by NatHipKnits. But evidently my yarn was not chunky enough. What I started was really tiny. And quite loose with that needle size. After some more frogging I decided to add some "socks' wool" by Schewe and held both yarns together.
Da das Garn recht knapp war, war das eine gute Gelegenheit, auch noch die letzten Meter "Joana" von Schachenmayr mit aufzubrauchen. Und dank des Bommels konnte ich das wirklich alles bis zum letzten Zentimeter verwenden. 🙂 Geworden ist es eine Kindermütze, die Anleitung war in diesem Punkt ja nicht so eindeutig… Aber als ich nicht mehr auftrennen mußte, war es ein schnelles Projekt. 🙂
The amount of yarn was a bit tight anyhow, so a good possiblity to use up my last remants of "Joana" by Schachenmayr. Thanks to the pompom I could really use it all down to the last centimeter. 🙂 The result is a beanie in child size. The instructions were not so clear regarding that point… But once I had finished all that frogging it was a fast project. 🙂