Fetching
Vor grauer Vorzeit, als der weltweite Stricktag noch ein Stricktag und nicht eine unverbindliche Strickwoche war, da gab es in der Maschenkunst für jeden angemeldeten Stricker ein Knäuelchen Wolle. Und so lag seit 2008 ein Knäuel "Scotch Tweed" von katia auf meinem Schreibtisch und wartete auf das passende Muster. Problem war die extrem kurze Lauflänge, die eigentlich für nichts richtig reichte, nicht mal für eine Mütze. (Und als ich mal so weit war, daß ich mir dachte, eine Mütze wäre nett, da gab es das Garn schon nicht mehr.)
Long, long ago, when WWKIP Day was still a WWKIP day and not a week, I was at Maschenkunst and all who registered before got a nice skein of wool as a gift. So since 2008 a Skein of "Scotch Tweed" by katia was sitting on my desk, waiting to be knit. The problem was that it is relatively heavy, so 50g don't go very far. And it wasn't enough for anything, not even a had. (And when I had decided I liked a hat the yarn wasn't available any longer.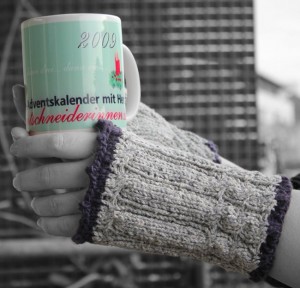 Bis Isabelle in ihrem Blog Fetching aus der Knitty erwähnte. Und ich in dem Überraschungspaket von WEBS ein lila Knäuel Noro "Retro" fand. Das sollte reichen.
Until Isabelle mentioned Fetching from knitty in her blog. And I remembered a skein Noro "Retro" in lilac from my WEBS grab bag, that looked makeable.
Mit Nadel 3,75 los gelegt, dann nachdem ich fast mit einer Stulpe fertig war, habe ich den Rest des Knäuels gewogen und mir überlegt, daß es doch netter aussähe, wenn ich unten und oben einen schmaleren Streifen lila hätte, statt nur oben einen breiten.
Also alles aufgezogen und noch mal. Ich war trotzdem nach sieben Tagen fertig, inklusive der Zeit, wo sie rum lagen und auf das Vernähen der Fäden warteten. 😉
I started with needles 3.75 mm and nearly finished one wristwarmer. Then I checked how much of the skein was left and decided then, that a small border in Noro at the beginning and the end would be nicer than just one larger block at the top.
So I frogged everything and started again. Even though they were finished after seven days, including the time they were laying around, waiting for the yarn ends to be woven in. 😉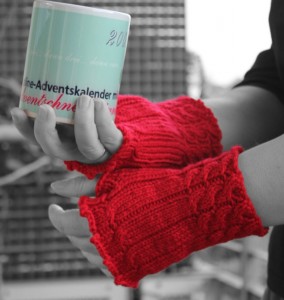 Und weil das ganze so schnell ging und so viel Spaß gemacht hat, habe ich mir noch ein Knäuel "Super Aussi" Merino Wolle von Queensland Collection (auch aus der WEBS Grab bag) geschnappt und noch welche gestrickt.
Die sind superweich und kuschelig, so weich hat sich das Garn auf dem Knäuel gar nicht angefühlt… schöne Überraschung! (Auch für die neue Besitzerin… 🙂 )
And since it was so much fun and went so quickly I made another pair from one skein "Super Aussi" by Queensland Collection. Another yarn from the grab bag from WEBS.
These merino warmers are so supersoft and cuddly, softer than the yarn did feel on the skein… beautiful surprise! (Also for the new owner… 🙂 )