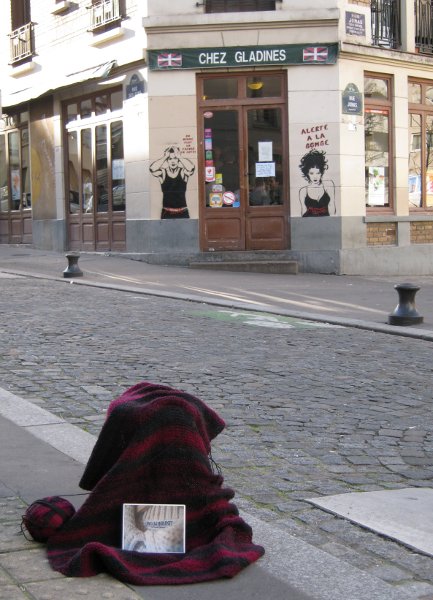 Der Schal Pop Block ist ein gutes Stück gewachsen, auch wenn das Stricken länger dauert, als mir so lieb ist. Weil recht langweilig.
My Pop Block wrap/shawl grew quite a bite even though knitting takes longer than I like because it is very boring.
Allmählich ist er auch der Transportgröße entwachsen, aber nach Paris durfte er doch und er posiert vor dem "Chez Gladines" auf der Butte aux Cailles
I had started the second ball of "Zauberball Stärke 6" by Schoppel that I had purchased at Maschenkunst in December. So… last year.The project starts to outgrow the "easy transport" stage but it fits well the street in front of "Chez Gladines" on the Butte aux Cailles in Paris.
Die Wolle ist immer noch "Zauberball Stärke 6″ von Schoppe, inzwischen beim zweiten Ball angekommen. Gekauft, falls es jemand vergessen hat, im Dezember in der Maschenkunst. Also sozusagen im letzten Jahr.