Fresh from the needles in February 2015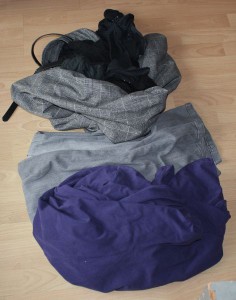 Auch diesen Monat gibt es wieder den aktuellen Überblick. Nähtechnisch ist der absolut langweilig. Ich habe gerade ein Projekt beendet und jetzt… liegt da die farblich sortierte Stopfwäsche. Also die Hälfte ist schon weg, dafür fehlen einige Teile, die auf Kleiderbügeln hängen…
Update time again. Sewingwise it IS boring. I just finished a project and now… it's repair and mending time. Thank you. So there are heaps of stuff, sorted by color. About half of the collected stuff is done already, but there are some items on clothes hangers, which are not in the picture.
Das dürfte mich noch so bis Ende der Woche beschäftigen. Und wenn dann nichts dazwischen kommt, kann ich endlich mal sehen, ob ich die Wickelbluse tragbar bekomme…
That should occupy me until the end of this week. And then, if nothing unexpected happens… I can finally tackle the task to make my wrap top from last year wearable….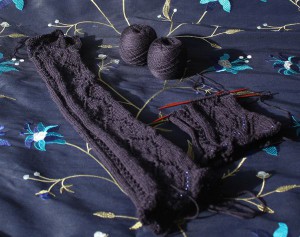 Auch bei meinen Spitzenstulpen hat es Fortschritte gegeben. Die zweite sollte schneller gehen, denn jetzt muß ich nicht mehr anprobieren.
My fingerless long mitts made nice progress also. The second one should knit faster, because I do not have to try it on constantly.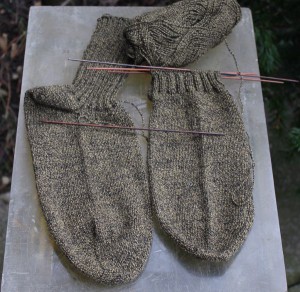 Allerdings liegen die Stulpen im Moment auf Eis, weil ich erst mal die nächsten Geburtstagssocken zwischengeschoben habe. (Das Bild ist jetzt gemogelt, weil ich vergessen habe, eines zu machen und jetzt nicht die Kamera noch mal rausziehe. Das Bild ist vom Samstag, das Bündchen ist inzwischen fast fertig.)
But the mitts are hibernating right now, because I have to make the next birthday socks first. (Here the pic is not exactely up to date, because I forgot to take one and will not drag out my camera AGAIN. The pic is from Saturday, the cuff is nearly finished right now.)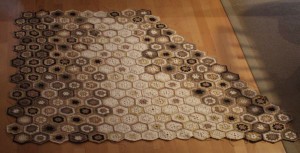 Und natürlich will ich euch den aktuellen Stand der unendlichen Häkeldecke nicht vorenthalten. Sie wird übrigens diesen Monat drei Jahren alt… und man sieht unten rechts, daß ich da die endgültige Breite erreicht habe. (Ob die Hexagons reichen, weiß ich immer noch nicht. Im Schätzen bin ich ja anerkannt schlecht. Und ausrechnen mag ich es nicht, weil ich mir nicht sicher bin, ob ich das Ergebnis wirklich wissen will…)
And or course I'll show you the state of the eternal granny project. Wich by the way turns three, this month… and if you look closely to the lower right corner you can see that it has the intended width there. (I still do not know if my hexagons will be enought. I am really bad in guessing and I do not want to calculate, because I am not sure if I like the result…)