Sneaker socks – the pattern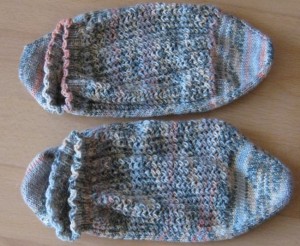 Auch diesen Socken bekamen noch einen Praxistest, bevor der Sommer endgültig vorbei war.
Und nun habe ich auch die Anleitung aufgeschrieben. Wie immer zum privaten und nicht kommerziellen Gebrauch frei.
Those sneaker socks with ultra short cuff did get worn at least once before summer was over.
And now I found the time to write down the pattern. As always free for private and non-commercail use: