Pretty in (pale) pink again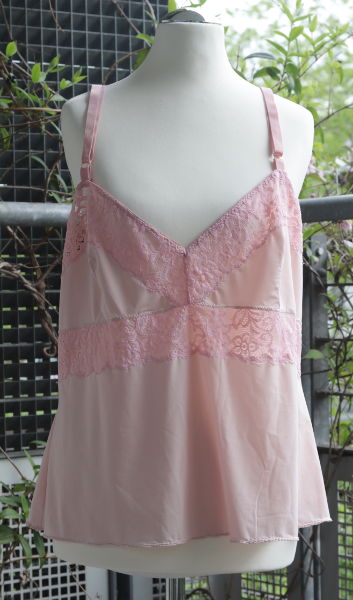 Wie das bei mir mit Unterwäsche meistens so ist… wenn ich Stoff und Spitze bestelle, wird das gleich eine Serie. Das hier ist ein Hemdchen nach  Butterick B 6031. Bewährter Schnitt. Und meine eigene Schnittbesprechung mit den Photos hat mir sehr weiter geholfen, denn die Anleitung ist verliehen und natürlich mal wieder an jemanden, der nicht erreichbar ist.
Like mostly when I am sewing underwear… when I am ordering fabric and lace the result will be a whole series. This now is a cami after Butterick B 6031. Already tried the pattern. And my own pattern review with the pictures did help me a lot for sewing. Because the original pattern and instructions has been borrowed to someone and that person is completely unavailable for quite a while.

Die Stoff, Spitze und Träger sind von Wien 2002. Nähgarn ist Bauschgarn Alterfil B 120, das sich problemlos als Oberfaden und Unterfaden auf meiner Nähmaschine verarbeiten ließ. Am Schnitt mußte ich die Verarbeitung etwas ändern, denn diese Spitze konnte ich nicht so teilen, daß sie zwei "schöne" Kanten bekommt. Hier bleibt die Bogenkante und ansonsten ein brutaler Schnitt durch die Mitte. Das Ergebnis gefällt mir aber trotzdem und ging auch viel schneller zu nähen als beim ersten Mal. (Nein, das Hemd ist nicht so weit, die Puppe ist eine Dekopuppe, die viel kleiner ist als ich.)
Fabric, lace and straps are from Wien 2002.Sewing thread is Alterfil B 120 wooly nlyon, that did work without any problem as needle and bobbin thread in my sewing machine. I had to chance the sewing of the pattern a bit, because the lace could not be separated lengthwise to create two "nice" borders. So I had only one nice border and a sharp cutting apart in the middle. I still like the result and it was much faster to finish than the first version. (No, the cami is not that large. My manequin is a decorative doll and way slimmer than my body is.)