Hot needles: August 2018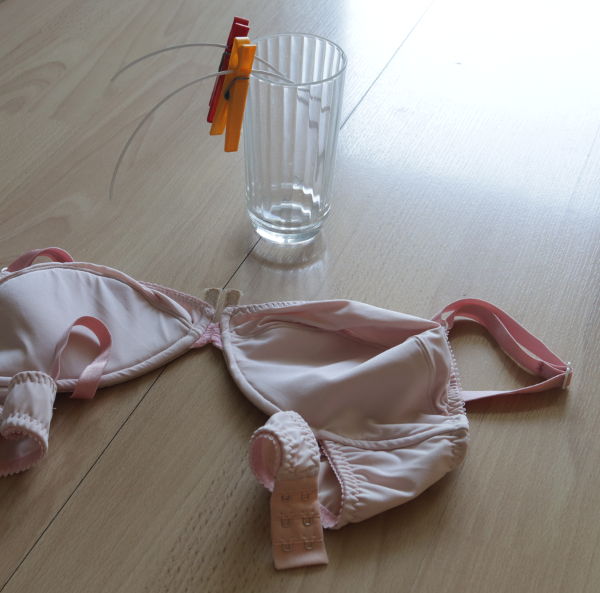 Wenn mir in den letzten Monaten die Nadeln heiß gelaufen sind, lag es sicher nicht an meinem Arbeitseifer, sondern an den Außentemperaturen… trotzdem habe ich einen dritten BH aus dem rosa Material geschafft. Die "letzte Meile" wird hier allerdings dauern, denn die Bügel sind gekürzt und brauchen mehrere Tauchgänge im Lack, damit die Enden versiegelt sind. Dazwischen müssen sie aushärten… und dann muß ich dran denke, sie wieder einzutauchen… etc.
If my needles were running hot over the last months it was not due to me working with them, but only due to the temperatures outside…. But I made a third bra from the pink material. The "last mile" will take some time here, because I had to shorten the wires and they will need several dips in the varnish to be sealed. Having them dry well between two dips. Which means I will usually forget about them until I remember to do the next dip weeks later…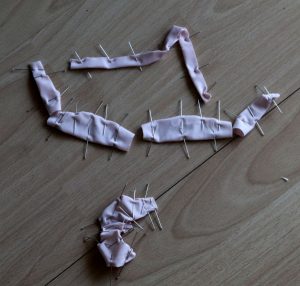 Was nach einem Versuch in Akkupunktur aussieht, sind Reste des Dessoustoffes, die am Ende einen Bikini für die Barbie ausgeben sollen. Mal sehen, wie lange ich für so wenig Stoff brauchen kann….
It might look like trying accupuncture, but it's the remnants of ma dassous fabric  getting transformed in a bikini swimsuit for a Barbie doll. Let's see how long it will take me to finish such a tiny project.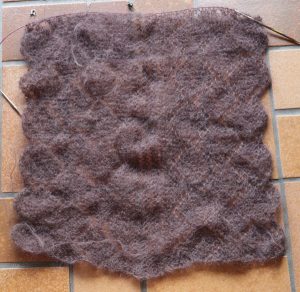 Da mein letztes Lace-Projekt ja nicht so glücklich verlaufen ist, habe ich mich wieder bewährten Anleitungen zugewandt, nämlich dem Buch Victorian Lace Today. Das Modell hat den etwas komplizierten Namen "Double-Bordered Scarf with Diamond Borders Adapted from Weldon's, 1904". Was mich besonders daran fasziniert hat ist, daß der Schal im Prinzip aus zwei Randbordüren besetzt, mit nur wenigen Maschen im Netzmuster dazwischen. Nur muß man die Reihen immer um eine versetzen, damit das am Ende aufgeht. Also Konzentration beim Zählen… aber da das Muster recht eingängig ist, ist das nicht so schwierig. Als Garn habe ich den großen Rest von "Diva" von Le Mohair des Fermes de France genommen.
Since my last lace project was a bit of a disappointment I went back to reliable patterns from the Victorian Lace Today book. The pattern has the slightly complicated name "Double-Bordered Scarf with Diamond Borders Adapted from Weldon's, 1904". What drew my attention to it was the way it is constructed: It is basically only border pattern on both sides, connected with a few stitches in mesh pattern between. Th rows are always one off, so it takes a bit of concentration for counting. But the pattern itself is rather easy, so that is not really complicated. The yarn is the huge remnant of "Diva" by "Le Mohair des Fermes de France".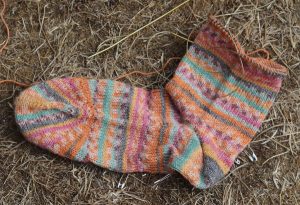 Und ja, vor zwei Monaten hatte ich da auch eine Socke angefangen. Die  Tipsy Toe Socks von Sybil R. Die gibt es immer noch… ich bin auch fast beim Bündchen. Von der ersten Socke… Ich mußte meine Ferse etwas kürzen, sonst wäre die Socke zu lang geworden. Die Spitze ist nicht so leicht zu messen. Garn ist immer noch "Cotton Kolibri Color" von Schachenmayr Regia.
Two moth ago I've shown the beginning of a sock, the Tipsy Toe Socks by Sybil R. They are still in the game. I have nearly reached the cuff. Of the first sock… I had to shorten the heel a bit, otherwise the sock would have been to long. Measuring is not so easy. Yarn is still "Cotton Kolibri Color" by Schachenmayr Regia.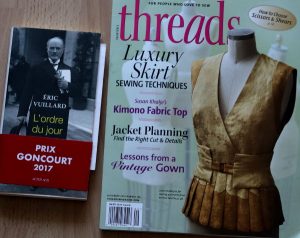 Dafür hat es beim letzten Paris-Trip wieder ein Buch auf meinen Nachttisch geschafft. Allerdings waren zwischendrin wieder etliche Zeitschriften bei mir angekommen, so daß ich mal wieder nur die ersten Seiten gelesen habe… mal sehen, wann ich dazu komme, weiter zu lesen.
Few crafting but on my last Paris trip I managed to finish a lot of periodicals and started the next book. But when I came home I was swamped again with periodicals, so the book reading stopped after a few pages… let's see when I will find the time to continue.