Fresh look on needles: August 2014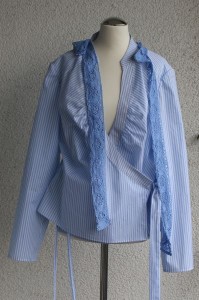 Auch diesen Monat ungelöst: Das Paßformproblem der Wickelbluse. Allerdings habe ich jetzt einen Lösungsansatz…. ich habe nämlich eine blau gefärbte Baumwollspitze gefunden, die farblich genau passt. Ich werde die Spitze einfach in die Seitennähte einsetzen. Dann wird die Bluse etwas weiter und das sollte den Zug vorne weg nehmen…
Still unsolved: The blouse still does not keep closed. But I have a new idea for a solution… I found a piece of lace, dyed in a matching blue, in my stash. I think I will open the side seams and insert the lace. So the top becomes a bit wider and should pull less at the front.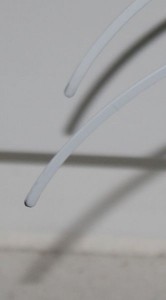 Auch mein BH ist noch nicht fertig. Die Bügelspitzen haben jetzt aber die ersten zwei Schichten Lack…
My bra isn't finished either. But the cut wires have the first two layers of varnish…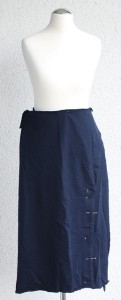 Wie zu erwarten hat sich auch an meinem Sweat-Rock nicht viel getan. Es gibt eine rückwärtige Mittelnaht und viele Knitter, weil er jetzt zwei Monate gefaltet in der Schublade lag.
As expected no real progress on my skirt. The back middle seam is closed also and it has a lot of creases from laying folded in a drawer for two months.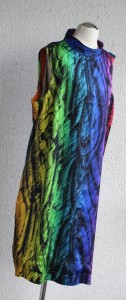 Dafür hat sich der Haufen Folienschnitteile nicht nur in ein Testkleid verwandelt, sondern das endgültige Kleid ist auch fertig. Es fehlt nur noch der Saum. (Was allerdings auch nötig ist, denn ich habe auch nur noch einen Nähtag….) Die Versäuberung mit Schrägband mache ich mit der Maschine, der Rest ist Handarbeit. Das heißt, notfalls kann ich es auch noch vor Ort machen, kurz vor der Feier…
But all those pattern pieces on plastic sheet did not only turn into a test dress but the "real" dress is nearly finished also. Only the hem is missing. (Which is very necessary, because I have only one sewing day left….) The binding for the hem allowance I will sew with the machine, but the rest will be hand stitches. Means in the worst case I can do it last minute before the party…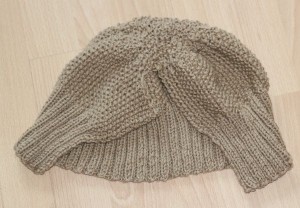 Auch die Mütze sieht unverändert aus. Das täuscht allerdings. Nachdem ich auf der Ravelry Seite zur Anleitung doch eine Angabe zur Maschenprobe gefunden habe, habe ich die Mütze aufgetrennt und größer neu gestrickt. Und dann noch mal komplett geribbelt und mit zwei Maschen weniger ein drittes Mal gestrickt, weil das Garn nicht reichte…
The hat also looks unchanged. But that is wrong. Since I finally found informations about the gauge on the raverly page of the patter I frogged everything and started again bigger. Then I frogged it for a second time and restarted with 2 stitches less, because the yarn was not enough….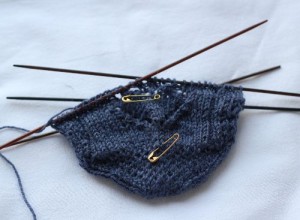 Ganz neu sind die Socken. Die sind nicht für mich und sollen eine speziell feste Sohle haben, weil sie eher so zum Lümmeln auf dem Sofa sein sollen.
Just started are those new socks. They are not for me and are supposed to have an extra stable sole, because they will not be worn in shoes, but on the sofa.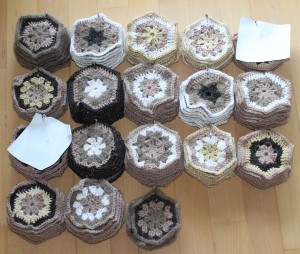 Großen Fortschritt bei meinen Hexagons, ich habe nämlich 405, also bin ich fertig. Da ich mich aber noch nicht entscheiden kann, wie ich es zusammenhäkle, werde ich noch ein paar mehr häkeln, um meine Farbauswahl zu vergrößern.
Big progress with my hexagons, I have 405 now, so I am oficially finished. But since I can't decide how to crochet it together I will continue a bit to create a bigger choice of color combinations.
Inzwischen sind es ganz schön viele Projekte… ich hoffe, bis November oder so habe ich das mal wieder etwas reduziert…
That are a bit more projects than I normally like… I hope to reduce the number by November or so….