My first mittens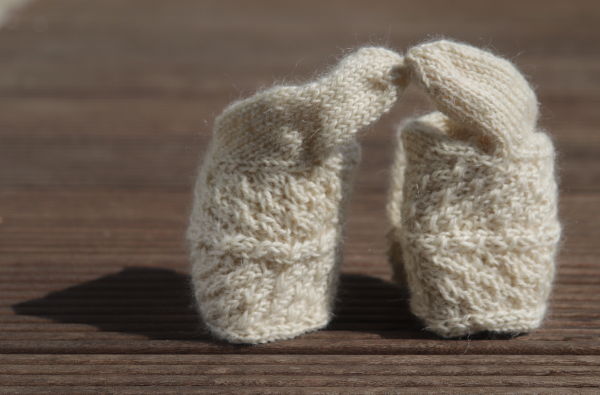 Manchmal stellt man ganz überrascht fest, daß man etwas eigentlich recht normales noch nie gemacht hat. Bei mir waren das Fäustlinge. Ich habe Fingerhandschuhe gestrickt, mit und ohne Finger, fingerlose Stulpen in allen Varianten, auch schon Handschuhe mit Klappe… aber noch kein ganz langweiligen Fingerhandschuhe. Da wir dieses Jahr für die Weihnachtsaktion für die Obdachlosen aber Handschuhe stricken, war das ein guter Anlass, das endlich mal zu tun.
Sometimes you realize that there is something very ordinary you have not done yet. In my case it were mittens. I've done cloves and countless types of handcuffs and other fingerless stuff… but never ordinary mittens. Since we are knitting mittens, gloves and handcuffs for the Christmas charity for the homeless this was a good moment to do so for the first time.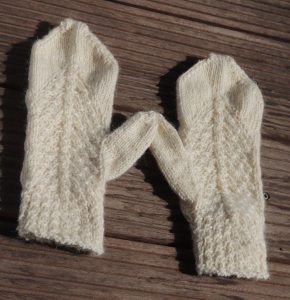 Die Anfänge hatte ich hier ja schon mal gezeigt, daher nur die Kurzform: Anleitung sind Bias Cable Mittens von Jennier Reinhart, die ich auf Ravelry gefunden habe. Das Garn war "Merino Kid" von Shibui Knits. Die Strickschrift war stellenweise verwirrend, weil sie sich von dem unterschied, was ich so gewohnt war, aber mit ein bisschen auftrennen ging das dann. Und ein Handschuh ist etwas schmaler, weil ich erst beim zweiten gesehen habe, daß ich noch eine Masche mehr hätte zunehmen sollen. Aber gut…
I had shown the beginnings of the project here, so only to wrap it up: Pattern was Bias Cable Mittens by Jennifer Reinhart which I'd found on ravelry. Yarn was "Merino Kid" by Shibui Knits. The charts were a bit confusing first, because the differed from everything I had seen before, but with a bit of frogging I succeeded at last. And one of the mittens is a bit narrower than the other. Because I only realized when knitting the second mitten, that I should have added one more stitch in the set up row. Well….
Garn ist mehr übrig, als erwartet und die Handschuhe liegen jetzt bis kurz vor Weihnachten im Sammelkarton bei mir. Ein hübsches Muster, bei dem einem auch nicht so schnell langweilig wird.
There is way more yarn left than I had expected. The mittens will now be stored in a box until Christmas. A nice pattern an not boring to knit.