Using the useless stuff
Gelegentlich kommen meine kleinen Restestrick- und -häkelarbeiten dann doch mal zum Einsatz… 🙂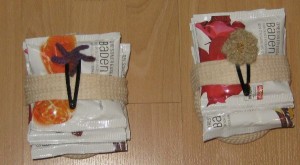 So finally some of my useless knitted and crocheted stuff to use up the scraps finds a usefull place.
Ein Geburtstagsgeschenk mit Massageschwamm und Badesalzen wird durch Haarclips abgerundet. Der Mini Seestern ist ja quasi gerade erst fertig geworden (also im Dezember letzten Jahres) und auch die goldigen Resteblümchen mußten weniger als ein Jahr auf ihren Einsatz warten. Also zumindest eines davon.
To make a purchased birthday present (massage sponge and bathing salts) a little more personal I decorated hairclips also. The Mini See Star had to wait only a few moths for its use, also the golden scrap flowers were on rest for less than one year. At least one of it.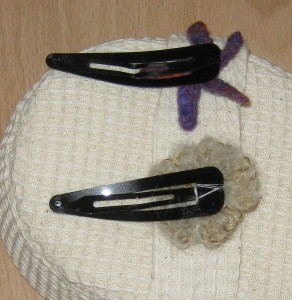 Hier noch ein kleiner Blick auf die Rückseite zur Befestigung. Eigentlich wollte ich mit dem Dremel zwei kleine Löcher bohren, aber der war mal wieder nicht greifbar.  Also habe ich den Faden kreuzweise gewickelt und dann auf die "neuralgischen" Punkte noch Sekundenkleber gegeben.
The second pic shows how I've attached the decoration. My idea had been to drill two tiny holes, but somehow the Dremel wasn't available, so I wound the thread crosswise and then added some super glue to the crossings.