Even the longest sweater is finished one day.
… ist irgendwann mal fertig.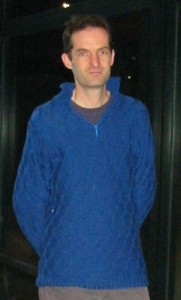 (Ich bitte die schlechte Bildqualität zu entschuldigen, aber die Geduld des Pulloverempfängers mit Photos war ungefähr so groß wie der Ladezustand der Kamerabatterien… 😀 )
(Please excuse the quality of the pics, the batteries of my cam were low as was the patience of the model… 😀 )
Luckily his patience with my knitting is way higher because I've started the sweater April 2009 and it was delivered two days before new years eve. And he's happy with the sweater.
Mit dem Pulli hingegen ist er glücklich und war auch geduldig, denn angefangen hatte ich letztes Jahr im April, übergeben wurde er kurz vor Sylvester.
Ich hatte ja schon einges geschrieben, hier noch mal die Zusammenfassung: Das Modell ist der "Zopfrautenpullover für jeden Tag", ein Modell von Michael Weinreich aus "Männermaschen". Das Garn ist "Merino extra" von Schachenmayr nomotta. Verbraucht habe ich etwa 815 g, die Anleitung geht von 750 g für die Größe aus, ich habe den Pulli aber verlängert.
Mit der Anleitung kam ich im großen und ganzen gut klar, auch wenn ich statt des ausgeschriebenen Musters lieber ein Diagramm gehabt hätte. Da passieren dann auch nicht so leicht Fehler… (worin der Fehler in der Beschreibung besteht habe ich hier schon beschrieben).
I've already been writing about this sweater, so here I'll try a resumee: The pattern is "Zopfrautenpulliver für jeden Tag" from Michael Weinreich from his book "Männermaschen". The yarn is "Merino extra" from Schachenmayr nomotta. It took me about 815 g, according to theinstructions it's 750g for that size, but my version was a good deal longer.
The instructions in general were fine even though I'd prefer a chart over written instructions for the pattern. This also helps to avoid mistakes in my opinion… (what I think is wrong and what I therefore changed I've already described here).
Was ich vermisste war eine Maßtabelle für die Größen. Der Pulloverbesitzer ist lang und dünn, so daß klar war, daß ich den Schnitt würde anpassen müssen. Vermessen der Person und eines am wenigsten schlecht passenden Strickpullovers (Menschen mit nicht-Standardgrößen haben in der Regel ja auch keine passende Kleidung) erbrachte Gr 46/48 in der Weite und eine Verlängerung des Pullovers um 6 cm sowie der Ärmel um 7,5 cm – 10 cm. (Je nach dem womit man verglichen hat.)
What I really missed were measurement tables to determine the right size. The owner of the sweater is long and thin so it was clear from the beginning that I would have to make alterations. So measured him and the least badly fitting sweater of his (non-standard sized people normally don't have fitting clothes you could refer to) and determined that the sweater would need 6cm more lenght and the sleeves 7.5 cm – 10 cm. (Depending on what I used for the comparison.)
Das Problem ist hier, daß sich jede Wolle etwas anders dehnt und der Vergleichspullover natürlich eine andere Wollmischung hatte und maschinengestrickt war. Merino verhält sich anders, handgestrickt sowieso…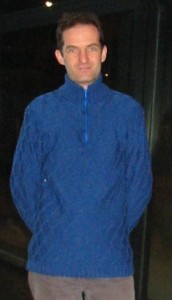 Im Resultat ist (obwohl nach gewaschener Maschenprobe berechnet) die Pulloverlänge gut, die Ärmel könnten 5cm kürzer sein, wobei es dem Träger glücklicherweise nichts ausmacht, die Bündchen einmal aufzuschlagen.
Der Kragen paßt hingegen offen und geschlossen gut. 🙂
The problem is that every yarn behaves differently and the existing sweater also was machine knitting. Merino wool is quite different and hand knitting also.
So the sleeves could have been 5 cm shorter, even though I had calculated with a washed and blocked swatch. Luckily the owner of the sweater doesn't mind to turn up the cuffs.
The collar on the other side fits well, with the zip open or closed. 🙂
Was ich gegenüber der Originalanleitung verändert habe war, daß ich am Kragen die jeweils ersten und letzten vier Maschen stillgelegt habe und dann von dort aus den Beleg direkt angestrickt habe, statt ihn anzunähen.
What I changed compared to the instructions was that I did not knit the facing for the zip as an extra piece but I attached it directly to the collar. What I would change if I'd do the sweater again: I'd use a firm ribbon instead of the knitted facing to stabilise the zip and make it easier to use it.
Was ich beim nächsten Mal anders machen würde: Statt gestrickter Belege Köperband von innen annähen, weil das den Ausschnitt stabilisiert und der Reißverschluss so leichter zu bedienen wäre. Denke ich zumindest.
Wer noch mehr Detailphotos sehen will: Auf Ravelry ist der Verlauf dokumentiert.
Das Fazit ist trotz der kleineren Kritikpunkte positiv: Antoine liebt seinen weichen, warmen und maschinenwaschbaren Pullover und er paßt außerdem besser als alle gekauften, die er sonst hat. 🙂
If you want to see more detailed pics the making of was documented on ravelry.
And besides some minor critique the conclusion is a very positive one: Antoine loves his soft, warm and machine washable sweater which fits better than anything else he has. 🙂