Gemini, the two faced top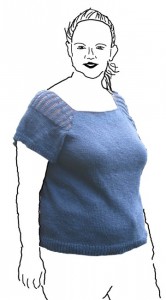 In der Knitty Frühjahr Sommer 2012 lachte mich dieses gestrickte Top an.
From the spring summer 2012 knitty I liked this knitted T-Shirt right away.
Garn ist "Linen" von katia, das ich in der Maschenkunst bekam. Mit 3,5er Nadeln bekam ich die Maschenprobe immerhin bezüglich der Maschenzahl passend, die Reihen stimmten mal wieder nicht. Da ich aber einen kurzen Oberkörper habe, ist das sogar eher praktisch.
The yarn is "Linen" from katia which Maschenkunst carries. I used 3.5mm needles so I could at least match the stitches of the gauge. The rows don't fit at all as it is often the case with me. But since I am rather short between bust and waist that is even an advantage.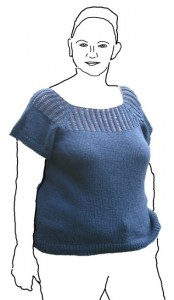 Ich habe nach den Anweisungen Größe 1XL gestrickt und dann zur Hüfte noch ein paar mehr Zugabereihen gearbeitet. Und bin mit der Paßform zufrieden.
I decided to knit size 1XL and added some extra stitches for the hips. I like the fit as it turned out.
Der Clou des Pullis: Man kann je nach Lust und Laune die geschlossene Seite oder die mit dem luftien Lochmuster nach vorne tragen. Ich glaube, mir gefällt es mit dem Lochmuster besser. Wie seht ihr das?
The special twist of the sweater? You can either wear the plain side to the front or go for the lacy one. I think I prefer lacy, what do you think?
Weitere Details vom Stricken gibt es wie immer auf ravelry.
More details from the knitting process are on ravelry as always.