Fresh from the Needles: February 2018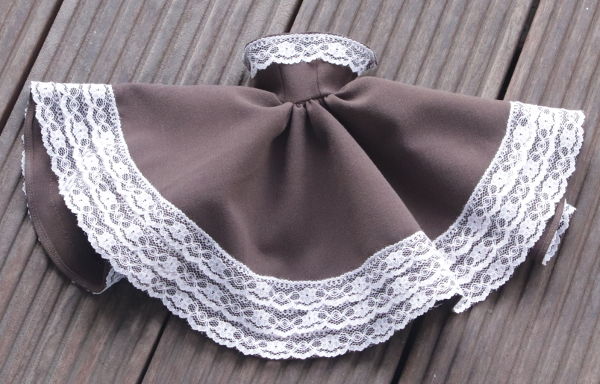 Das Bild zeigt, daß sich bei mir nähtechnisch nach Weihnachten tatsächlich was getan hat… denn hier liegt wieder ein fast fertiges Barbiekleid und wer regelmäßig mitliest weiß, das heißt, vorher wurde auch was "richtiges" fertig… nämlich eine Hose. Die muß nur noch photographiert werden, was wie immer etwas dauern kann.
The pic shows that sewingwise something happened after Christmas… because that as a neary finished dress for a Barbie doll and all regular readers her know, that means I finished a "real" project so I have remnants for a Barbie dress. Yes, I made some pants for myself, will just take a little time to photograph them. Like usual.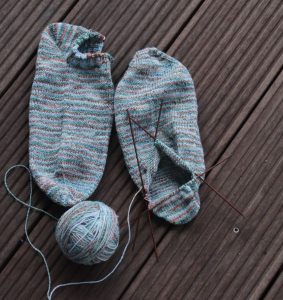 Da der Geburstag meines Bruders schon Anfang März ist, habe ich mir im Januar auch seine Geburtstagssocken vorgenommen. Da er hierfür Sneaker Socken will, geht das zum Glück schnell. Die zweite Socke ist auch schon am Ende der Ferse.
My brothers birthday is in the beginning of March, so I've started his birthday socks in January. Since he wants short sneaker socks for the summer progress is rather fast. The second sock is within the last rows of the heel.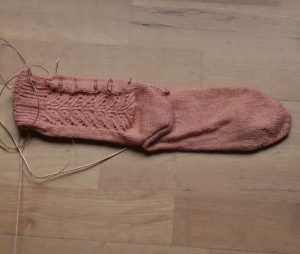 Und für mich selber gibt es auch endlich mal wieder Socken. Das Muster der Annabella Handstulpen hatte mir ja so gut gefallen, daß ich das auch für Socken verwenden wollte. Hier wartet die erste Socke darauf, abgekettet zu werden.
And finally some socks for myself. I had liked the Annabella pattern so much, that I wanted it on socks, too. Here is the first sock that is waiting for the bind off.
Bücherbild gibt es nicht… aber ich habe es tatsächlich geschafft, denn Herrn von Hirschhausen mal zu lesen. Noch nicht komplett, aber immerhin. Das Buch kommt ein wenig geschwätzig daher und breitet im ersten Kapitel auf unglaublich vielen Seiten den Inhalt von ungefähr 30 Minuten Psychologievorlesung aus… aber dafür sehr anschaulich. Für Mensch, die eh lieber selber denken und sich schon mal ernsthaft mit Statistik auseinandergesetzt haben (auseinandersetzen mussten….) ist nicht sehr viel Neues drin und das was neu ist, ist eher anekdotischer Natur. Wer das aber nicht hat, hat die Chance, was zu lernen. Ob das Buch aber Menschen, die lieber glauben als wissen wollen überzeugt… ich fürchte, so einfach ist es nicht.
No pic of the books, because still the same. But I started at least reading it. Not much new for me, but for people who are not psychologists and had not to learn a lot about statistics it might hold a lot of information.