Nachdem die erste Version aus Noro Kureyon die Waschmaschine und den Tragetest so weit überstanden hat, habe ich das Muster dann auch mit meiner bewährten Regia Sockenwolle ausprobiert.
My first Skew from Noro Kureyon survived wearing and the washing machine, so I tried the pattern on my trusted Regia sockyarn.
Der sehr kurze Farbverlauf der "4fädig Color" (ich glaube, die gibt es so nicht mehr) kommt für meinen Geschmack sehr gut zur Geltung. Und um "Gleichheit" der Socken muß man sich auch keine Gedanken machen.
The very short color repeat from "4ply Color" (discontinued I think) works very well with the pattern. And you do not even have to think about wanting identical socks.
Diesmal habe ich die Socken etwas länger gestrickt, trotzdem sitzt die rechte Socke noch arg eng über der Ferse. Die dekorativen Zunahmen schränken die Dehnbarkeit leider noch weiter ein, als es bei der schrägen Strickart ohnehin der Fall ist. (Und mein rechter Fuß ist länger…)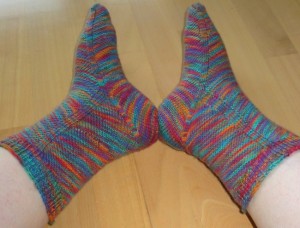 This time I've knitted the socks a tad longer but still the right sock is very tight over the heel. The decorative increases and decreases prevent the sock from stretching even more. (Knitting "oblique" already restricts stretchieness quite a lot. And my right foot is the longer one….)
Also muß ich bei der nächsten Version noch etwas zugeben und einen Kompromiss finden, der beiden Füßen gerecht wird.
So more length for the next version and a good compromise that will fit both feet.
Ich habe nämlich auch noch eine selbstmusternde (Regia Tibet Color) Wolle, die richtige Ringel gibt, da könnte ich doch mal wieder versuchen, zwei gleiche Socken zu produzieren. Dazu müssen dann aber beiden Socken die gleiche Reihenzahl habe. Probetragen muß allerdings warten, wegen mir gerne auch einige Monaten…
I still have some selfstriping yarns (Regia Tibet Color) andso I could try to make twins instead of some distant cousins. But then I need the same rowcount for both socks… First time wear will have to wait. As far as I am concerned I can wait some more months…

(Den Verlaufsbericht gibt es wie immer auf Ravelry.)