Fresh from the needles October 2016
Allmählich hat sich das gewohnte Projektchaos wieder breit gemacht…
The multi-project mode is back again…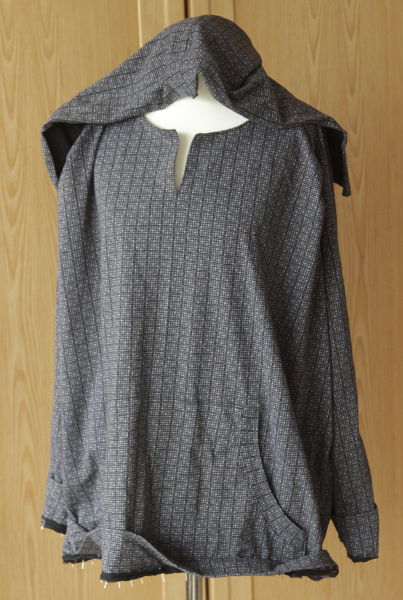 Genäht wird gerade ein Hoodie nach einem Schnitt von Hot Patterns. Mein erster dieser Firma, daher wird der Schnitt erst mal mit einem weniger spannenden Stoff getestet, bevor es an den Wolljersey geht. Der Schnitt hat mich bislang nur mittelmäßig begeistert, denn es sind so viele Größen auf dem Schnittbogen, daß die Linien (alle in Schwarz) oft zu einer dicken werden und man dann nur noch raten kann, was wohl die Schnittlinie sein könnte. Und die Nähanleitung führt aus meiner Sicht auch nicht zum schönsten Ergebnis. Da werde ich einiges ändern müssen. Dafür sitzen die Schultern aber bislang da, wo sie hingehören. Das ist bei mir ja nicht immer der Fall.
I am back to sewing big things, this time a hoodie after a pattern from Hot Patterns. It's the first time I am using a pattern of that company so before I will cut my woolen knit fabric I am trying it in a less important fabric. The pattern did not excite me too much. There are a lot of sizes on the paper and often all those (black) lines converge into a very thick black line and you can only guess where the right size might be. Also the instructions do not give the best way to sew it IMHO. So for the second one I will have to make some changes. On the other hand the shoulders fall where they should and that is not often the case for me.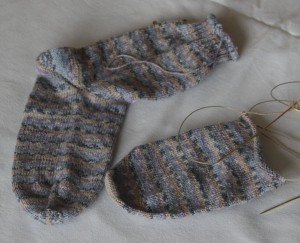 Socken habe ich noch mal Garn mit Baumwolle (TOM Cotton Strumpfgarn von Bärengarne) auf die Nadeln genommen, ganz ohne Muster geht es relativ schnell, die zweite Socke ist kurz vor der Ferse.
For socks I choose another time a sock yarn with cotton (TOM Cotton Strumpfgarn by Bärengarne) and I am knitting it plain vanilla, so it's a relatively fast knit. The second sock is not far from starting the heel.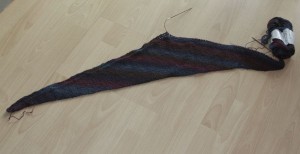 Für ein Seminar brauchte ich dann noch mal ganz langweiliges Stricken, daher habe ich auch noch mal ein Tuch angefangen, diesmal "Trillian" nach Martina Behm aus Jawoll Magic von Lang Yarns. Keine Ahnung, ob ich das behalte. Das Garn war da, die Farben sind gar nicht so meins.
Then for a seminar where I was supposed to listen I needed a completely brainless knitting. So I started a simple triangular scarf, it's "Trillian" by Martina Behm. The yarn is "Jawoll Magic" by Lang Yarns. Not sure if I will keep the scarf in the end, I needed something to knit, the yarn was there… but I am not sure if I can make any use of those colorways.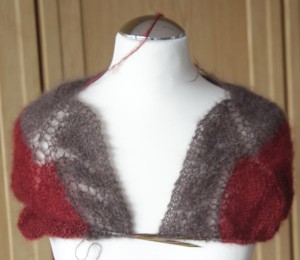 Und es gibt endlich mal wieder ein größeres Strickprojekt. Das soll so eine Art Tunika werden, mein erster Raglan von oben. Das Garn ist hier "Diva" von Le Mohair des Fermes de France. Das Ergänzungsgarn (wegen der Menge) hatte ich ja erst im Januar gekauft und habe die Tunika auch dieses Jahr schon angeschlagen. Für meine Verhältnisse ist das ganz gut.
I also started another bigger knitting project. It's my first raglan from the top and it is supposed to become a kind of a flared tunic. The yarn is "Diva" by Le Mohair des Fermes de France. I only bought one color in January this year (which I needed because what I already had was not enough) and have started knitting it this year. Quite good for me.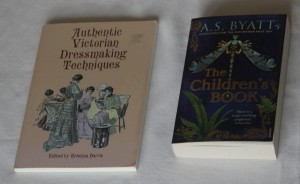 Zum Abschluss noch der Blick auf die aktuelle Lektüre. Mit dem englischen Nähbuch bin ich immer noch nicht durch, das besteht doch aus viel Text und wenigen Bildern, dafür bin ich romantechnisch ein paar Werke weiter, hier bei einem sehr angenehmen Lesevergnügen mit vielen lebendigen Szenebeschreibungen.
And not to miss the look on my reading right now. I am still not finished with the Victorian Dressmaking Techniques. There are a lot of words and a lot of information densely packed. While on the novel side I have moved on by a few books, here a real reading pleasure with many lively described scenes.