A "Frankentop"

Endlich habe ich auch mein Oberteil aus dem pinkfarbenen Merinojersey fertig. Geplant war dafür ja der Daytona Hoodie von Hot Patterns. Aber abgesehen davon, daß der Schnitt nicht sonderlich gut passte war er zum Rock auch zu lang. Und gekürzt machte die Känguruhtasche keinen Sinn. Also legte ich das Projekt erst mal auf Eis (war eh genug anderes im Leben zu tun), bis mir klar wurde, daß mir vor allem die Kapuze gefiel. Und dann noch die Raffungen an der Seite von Burda 6785.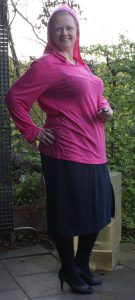 Finally I finished my top from the dark pink merino jersey knit. Originally I had planned to use the Daytona Hoodie by Hot Patterns. But for once the pattern did not fit really well, the top was too long to look good with a skirt. And shortening it would have made the pockete useless. So I waited for a while until I understood that what I wanted was the hood. Plus the side shirrings of Burda 6785.
Also schnappte ich mir meinen Standart T-Shirt Schnitt, verlängerte die Seite gemäß dem Burda Top und flanschte die Kapuze von Hot Patterns Schnitt an,
So I took my standard T-Shirt pattern, lengthened the sides according to the Burda pattrn and added the neckline and the hoodie of the Hot Patterns pattern.
Das Ergebnis ist leider nicht so ganz wie geplant… Der Merinojersey hat einfach gar keinen Stand und auch kein Elasthan. Außerdem ist er sehr weich. Ich bin mir nicht ganz sicher, ob er durch das Gewicht des Gummis in den Seiten runtergezogen wird (andererseits sind die Seitennähte durchaus gerafft) oder ob es am völlig fehlenden Stand liegt. Jedenfalls ergeben sich weder vorne noch hinten irgendwelche Raffungen…
The result is not really as intended… the soft merino knit is just… soft. And contains not elasthane. I am not sure if the problem is the weigth of the elastic that was used for shirring (on the other hand… there is visible shirring at the side seams) or the extreme soft drape of the fabric. But there is no shirring visible at front or back.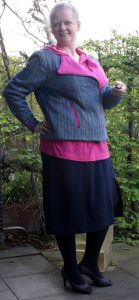 Das Outfit im Ganzen sieht mit den vorlugenden Shirt gar nicht so schlecht aus… aber ich muß mal sehen, ob ich noch versuche, was zu verändern. Tragen tut sich der Stoff sehr bequem. Und ich mag die Verarbeitung. Ich habe Kappnähte von Hand genäht, so brauchte ich keine elastischen Stiche, sondern konnte das einfach über die Fadenspannung nähen. Bei der Kapuze habe ich über die Saumzugabe eine Spitze genäht und diese dann auch von Hand gesäumt. Und sonst alle Nahtzugaben unter Belegen versteckt. So sieht es von beiden Seiten schön aus.
The whole outfit doesn't look that bad with the top peeking under the jacket. But it was not as intended. Not sure if I will try to change something… The fabric is wearing great. And I like the way I made the sems: doing the flat felling by hand. So no special stitches were needed, the tension of the thread controlled in hand sewing is enough. For the hem of the hood I hid the cut edge under  a lace ribbon. Otherwise I hid all allowances under the facing. So it looks really nice from both sides.
(Die Photos habe ich gemacht, bevor ich auf die h&h ging. Nach dem Motto: "Wenn ich schon aufgebrezelt bin…" Die Schuhe sind aber nur fürs Foto, die habe ich vor der Messe auch gegen flache ausgetauscht. So weit gehen meine masochistischen Neigungen dann doch nicht… 😛 )
(I took the pic before heading for the h&h trade fair. Like "once I am already dressed up…" thought the shoes were only for the pics. I am not such a masochist to go with heels on a trade fair… 😛 )