Brown Blossoms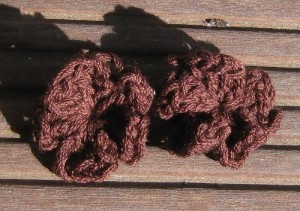 Das mit dem Stricken, liebe Christa, merke ich mir fürs nächste Mal.

Diesmal blieb ich  bei der bewährten Technik und die letzten Meter von dem weichen braunen Garn wurden  die hinlänglich bekannten Scrap Flower Daisy von Kristine Mullen. Die gehen jetzt in die Tüte mit dem Tüddelkram.
I'll remember the knitting idea for the next time, dear Christa!

This time I used the well known pattern for the last meters of the soft, brown yarn and they became Scrap Flower Daisy by Kristine Mullen again. Which will go into my bag with decorative stuff where the other ones are waiting for them.